The special cases of macro photogrammetry are objects with small height configuration. These include mainly planar objects with microscopic elevations that cannot be seen by a naked eye. Typical applications can be found in archeology, paleontology, engineering, criminalistics, products quality assurance and other areas.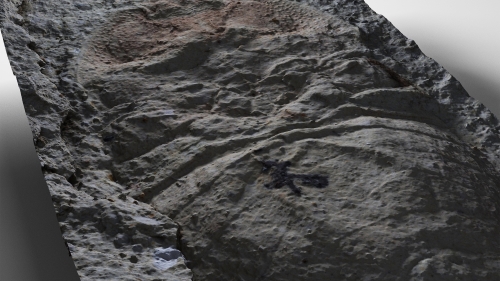 Stages of micro relief scanning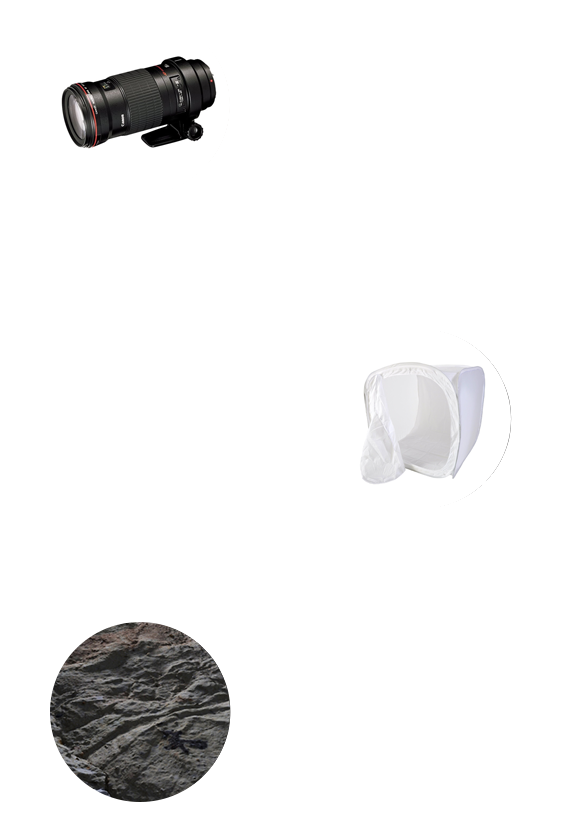 Macro Close-Range photogrammetry
It is a modification of Close-Range photogrammetry. We use macro photogrammetry to capture microscopic elevations that are invisible to a naked eye. The principle of this method is based on a combination of ground photogrammetry with the method know as Focus stacking that allows to increase sharpness of the final image.
Our photobench is developed to allow as fast data collection as possible minimizing financial costs. Apart from automatization of imaging process, this system also provides an option of removing strong reflections on the object. We use step motor and macro rail that feeds the camera in the direction of axis sensor, rotation table, diffuse tent, camera, flash, and controlling computer to automatize imaging process.
We use rendering to achieve realistic view of 3D model in computer environment. By setting correct parameters of software lighting, we can display microscopic terrain elevations that would not be possible using a naked eye or a microscope.
Cutting edge technology
We use cutting edge technology of ground photogrammetry, and panoramic imagery. We use cutting edge APS-C cameras equipped with full-frame sensors from 16 to 50 Mpix and Canon and Olympus high-light lenses to collect data. The advantage of these technologies is that they represent contactless scanning methods. Surface of scanned object therefore isn't damaged. Until now 2D data (imagery) exclusively were used to visualize objects with small elevations. This method did not provide sufficient information. However 3D data are more accurate, and the third dimension provides greater information value for researchers in various fields of science.
Close-Range photogrammetry
Výstupy
We deliver 3D model of object in standard file formats OBJ, WRML and STL to our clients. We can also create depth maps and renders from models.
Based on 3D models, we can develop various animations, such as bird-eye view or stereoscopic videos for presentation purposes. Upon request, we optimize 3D models and prepare them for virtual and augmented reality. They can also be prepared for presentation directly in internet browser, without the need to install plugins.
Please do not hesitate to get in touch with us if you have any questions regarding support or other outputs or formats.

The procedure of solution drafting
1. MEETING
Meeting for a coffee in our office. Together we will define the objective of the project.
2. PLANNING
We will set up a schedule of tasks, and choose the best possible technology for your project.
3. SCANNING
We will proceed with scanning of an object in question using appropriate technology.
4. PROCESSING
We will develop a 3D model and calculate required data for your project.
5. DELIVERY
We deliver the final project to a client in a specified format.
We are here for you!
Did our experience and unique solutions catch your attention? Do not hesitate to get in touch with us, and become one of our satisfied clients.